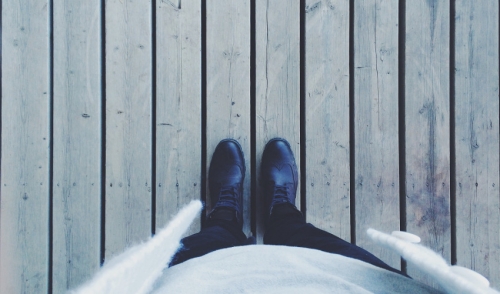 The best way to turn leads into customers is to educate them. In fact, some research has shown that more than half your leads will buy a deck from you if they're properly educated about their deck options upfront and given time to think them through.
Then, once those leads decide to buy, ongoing customer education is key to your customer's satisfaction.
Here are three ways you should educate your customers throughout the deck build to ensure they're celebrating their finished deck and singing your praises, instead of feeling the pangs of buyer's remorse and writing a bad review about your company on Yelp.
1. Educate Your Client on What to Expect During the Building Process
Often, homeowners think that building a deck is a relatively easy job and assume it shouldn't take much time. After all, some of their friends have probably done a small deck DIY. So, with a professional on the job, why shouldn't they visualize themselves sipping mojitos on their new deck as soon as next week?
They also may not consider the sawdust, noise, and possible hiccups that can come with deck construction. So, it's your job to communicate the realities of a deck build with your clients upfront.
Thoroughly outline what the process will look like for the homeowner, and remember that they aren't builders themselves. Take time to explain what you're going to do in layman's terms. Don't use builder's jargon unless you explain what you mean. For example, homeowners won't necessarily know what the word "rise" means, but they would understand the phrase, "height of the step."
Once the customer has a clear picture of what's involved, then you can discuss any problems—foreseen and unforeseen—that might come up and explain how you'll handle them. That way your client won't have a meltdown when you give them an estimated time for completion.
If you're proactive and imagine what would go through your mind if you were the customer, you can answer questions before they're asked and head off misunderstandings from the start.
2. Educate Your Client on Decking Materials
Each client will have their own idea of what makes a deck look good. Some people like natural redwood, some want a composite deck that matches the siding on their house, and others may assume that pressure-treated wood is the only option they have.
Of course, the only way to know what's ideal to your customer is to ask them. The tricky part of this, however, is that if they don't see all the options you must offer them, then they may be unknowingly limiting themselves. So even if they come in with an idea of what they want, don't skip showing them what you have available that might fit the look they have in mind--but is a better product.
Make sure to answer these questions before you move forward:
Does your customer fully understand the differences in longevity between wood types, such as cedar and redwoods, or exotic hardwoods as opposed to pressure treated?
Do they understand that they can use composite or plastic decking and still have a wood look without the maintenance cost of staining or painting it?
Do they understand that the material and labor costs of overhauling an old deck can be as much or more than tearing it down and building a new one?
Overlooking details like these can make your customers wish they'd have better known about their options and make them unhappy with their finished deck. Be sure your customers know all the materials you offer and help them weigh the pros and cons of each material before you start building.
3. Educate Your Client on Upkeep
Each type of decking material has its own upkeep challenges that your clients need to be aware of. For instance, if they choose to use pressure-treated lumber, do they understand how long they need to wait before they decide to paint or stain their deck?
Do they understand the long-term costs associated with each material? These costs can add up over time. An educated customer can properly weigh these options and might choose higher quality products and pay more upfront to keep from spending more money on upkeep and maintenance in the future.
In this way, educating your clients not only helps them make informed decisions, but can give you a lead-in to upsells as well.
Educate your clients, and you can make your dreams--and theirs--a reality.
This article was originally posted on Remodeling
To view this article in its original form, Click Here!