Makita 10" Table Saw with Stand 
Manufacturer: Makita Power Tools
Model Number: 2705X1
Makita's 10" Contractor Table Saw with Portable Stand is a versatile and powerful table saw for use in the shop or on the job site. The 2705X1 combines a range of convenience and ease-of-use features with large capacity and 15 AMP power, making it a true best-in-class table saw for a range of professional applications. The portable stand is job site tough for easy transport.
Powerful 15.0 AMP motor delivers 4,800 RPM for improved performance
Large cutting capacity (3-9/16" at 90° and 2-1/2" at 45°); rips 4x material in one pass
Large 25" ripping capacity for cutting plywood/sheet material
Easy to read scale with a magnifying glass for increased accuracy
Smooth action rip fence slides easily across the table for fast adjustments
"Tool-less" modular blade guard system with an adjustable riving knife/spreader
Blade guard assembly with cam lock provides easy "tool-less" installation or removal
Electric brake for maximum productivity
Adjustable dual side guards allow for ease of measurement from the blade to the rip fence for cutting set-ups
Two onboard independent stowable anti-kickback pawls and riving knife/spreader for through cuts

Valid: 03/01/2019 - 03/31/2019
Offered By: S.J. Neathawk Lumber Co, Inc.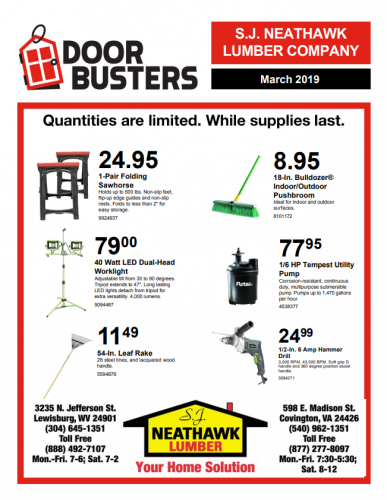 Valid: 03/01/2019 - 03/31/2019
Offered By: S.J. Neathawk Lumber Co, Inc.
Sign up for our Email List
Stay updated with all our latest posts, products and offers! Just enter your information below.